Safety Can Be Informative, Stimulating & Fun
All classes are taught by Larry Richmond. Larry is an OSHA Outreach Instructor, and is up to date with the latest requirements in the safety world. He is a Construction and Health Safety Technician (CHST) and a member of the Board of Certified Safety Professionals® (BCSP®). His career includes 23 years as owner and Safety Manager for Richmond Construction, CA State Credentialed Instructor for Career Technical Education in Construction Technology, and he is an Adult Education Instructor for Sonoma County Office of Education.
Larry Richmond has completed all requirements for a Board of Certified Safety Professionals® (BCSP®) certification. This highly respected certification is awarded by BCSP to individuals who meet eligibility and experience criteria in the safety, health, and environmental discipline and have passed a rigorous examination.
Safety issues have become more complex, and today's safety professional must continually be better qualified. "Safety, health, and environmental practice relies on the knowledge and skills of its practitioners," explains BCSP's CEO, Christy Uden, CAE, IOM. "We are proud of those who join us in advancing safety through quality certification."
BCSP credential holders are among the most highly trained, educated, and experienced individuals in the safety field. Having achieved a BCSP certification shows that the individual has mastered the core competency required for professional safety practice. Certificants recertify every five years to maintain certification, ensuring they remain knowledgeable in their practice and continuously improve the profession.
The Board of Certified Safety Professionals (BCSP), headquartered in Indianapolis, Indiana, is a not-for-profit corporation recognized as a leader in high-quality, accredited credentialing for safety, health, and environmental (SH&E) practitioners. BCSP establishes standards and certifies competency criteria in professional safety practice. Since 1969, over 100,000 BCSP credentials have been achieved.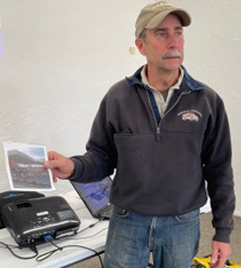 Eric Peterson is an associate instructor for Mill Creek Safety. His professional career includes training as a Rural Paramedic, EMT Certification/Instructor, Firefighter for the U.S. Forest Service and Reserve Fireman, Health Instructor for the Sonoma County "My Body's Healthy" program, instructor for Eduquest America, instructor in the Construction Management Program at Sonoma State University, and graduate of the U.C. Davis Health & Safety Certificate Program.
Mill Creek Safety has been providing Northbay businesses and private citizens with safety training for over 30 years. No matter what the topic, we are passionate about teaching and our classes always contain up-to-the-minute health and safety information that is presented in a lively, relevant, and entertaining manner.